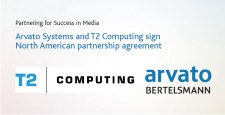 Arvato Systems and T2 partner for expansion in North American media marketplace. - T2 Computing selected as reseller for Arvato Systems products across North America - VPMS, EditMate and ClipJOCKEY key to future success
New York, NY, August 30, 2016 (Newswire.com) - ​Arvato Systems' focus for expansion into the North American media marketplace is the development of a network of solid partners with experience and expertise in the target market. Including T2 Computing as reseller partner is a key element of this strategy. T2 Computing will expand the reach of Arvato Systems as they expand their business beyond their existing contacts and expertise
Headquartered in New York City, T2 Computing manages broadcast and film post-production for global media companies and independent post production facilities. Known across the industry for their experience and talent in the media workflow space, T2 Computing is already involved in learning about the Arvato Systems product portfolio and are planning promotional activities and sales presence in the US market.
The Arvato Systems portfolio to be promoted by T2 Computing includes the flagship VPMS Media Asset Management system along with the award-winning collaborative editing tool EditMate and the ClipJOCKEY studio production toolset. Together, these solutions present a compelling suite of products for North American media companies, offering a high level of integrated functionality that enables more streamlined workflows and improved operations– from both a financial and a creative point of view.
"Arvato Systems is thrilled to be working closely with T2 Computing, an organization that has an excellent track record and drive to succeed. We look forward to combining their expertise with our portfolio of solutions." comments Rob Fox, Vice President, Media – North America.
"We are constantly improving our solutions portfolio," says Ian Ash, Vice President, Corporate Sales, "and we believe that including Arvato Systems will enable us to respond better to the requirements of the industry, expanding the range and quality of solutions we can propose."
 About Arvato Systems
As global next generation IT systems integrator Arvato Systems focuses on "Digital Transformation Solutions".
We use the technology talent and expertise of over 3,000 people at more than 25 sites throughout the world. Being a part of the Arvato network and belonging to Bertelsmann, we have the unique capability to create entire value chains. Our team creates integrated, future-proof business infrastructures that help make our clients more agile and competitive, and enable them to deliver new standards of service to their customers. We create streamlined digital processes that support innovative business models. Moreover we provide operation and support services.
Customers from the world of media, one of our core areas of expertise, can also benefit from these solutions. Custom-tailored Arvato Systems solutions for broadcast management, media asset management, and publishing, enhanced by marketing and enterprise solutions are in use today in more than 30 countries.
Arvato Systems offers an exceptional combination of international IT engineering excellence, the open mindset of a global player, and the dedication of employees. We also ensure that all our customer relationships are as personally rewarding and long-lasting as they are successful. IT.arvato.com
About T2 Computing, Inc.
T2 Computing is a unique IT solutions company that resolves a vast range of challenges leading companies face today. Through our highly experienced client team, the company provides the latest in computing, storage, networking and media hardware and software coupled with world-class professional services. We specify, design, deploy and support solutions for the most complex workflows. For more information visit www.t2computing.com.
Source: Arvato Systems
Share: