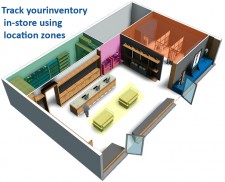 In a coordinated effort to prove the power of cloud solutions to a single view of your inventory, eCommerce system integrator arvato Systems partnered with RAIN RFID leader Impinj to demonstrate the ease in harnessing hybris's YaaS platform to keep your most important asset in view.
New York, NY, May 16, 2016 (Newswire.com) - A single accurate view of inventory is a significant victory for product-based industries.  
The results of not having products in stock when and where consumers are looking for them can be significant revenue and loyalty loss. Inventory management has historically been an important aspect of business and its challenges grow as the size of the business grows. Omni-commerce and related trends that consumers expect and demand make mastering inventory management even more critical and more complex than ever before. In recent years RAIN RFID software has made many advances but these traditional on-premise installations can require a heavy overhead in setup and maintenance costs.
"Every 3% accuracy improvement drives 1% revenue increase."
The demo of Inventory Services at SAP Sapphire showcases the benefits of cloud services for inventory management. Assets are tracked in real-time in a simple UI that is accessible for salespersons, retail managers, warehouses,

eCommerce

sites and high-level decision makers. The interactive presentation demonstrates the real-time updates and item tracking via a sleek and simple UI. 
arvato Systems' activities on YaaS began in January 2015 with the exclusive collaboration with hybris labs on the in-store task management system TKT, which is part of hybris labs' Changing Room Omni-Commerce solution.  arvato Systems Microservices were developed in close collaboration with the hybris YaaS development team to complement the hybris Core and Commerce offerings.
About arvato Systems
arvato Systems North America is a long term Gold hybris and SAP Gold Partner with a solid reputation as a system integrator. We have been implementing standard hybris solutions for more than eight years while also offering tailor-made, industry-specific and individually developed solutions. Our second pillar of expertise is Cloud Consulting and Services helping businesses to transform their processes and applications to leverage the advantages of the Cloud, for example ad hoc and in time scalability, global deployment approaches and codified infrastructure. Dedicated eCommerce specialists at our sites throughout Europe, China, South East Asia, the US, and Latin America are always there for our customers. As part of the arvato network, a leading international technology provider that thrives on digital transformation, we have the unique capability to provide entire value chains. We are globally combining IT with other services like fulfillment, financial and customer services to deliver integrated end-to-end solutions from one source. The strength of arvato Systems North America lies in the intelligent combination of managing, planning, implementing and operating complex hybris CEC solutions. Our customers appreciate the way we bring in-depth industry know-how, hybris platform, Cloud expertise, a true partnership approach, and the Bertelsmann entrepreneurial spirit to the table. Our solutions pave the way for your success in commerce. www.arvato.com/cloud-commerce-services
About hybris
hybris software, an SAP company, provides omni-channel customer engagement and commerce solutions that allow organizations to build up a contextual understanding of their customers in real-time, deliver a more impactful, relevant customer experience and sell more goods, services and digital content across every touch point, channel and device. Through its state-of-the-art customer data management, context driven marketing tools and unified commerce processes, hybris has helped some of the world's leading organizations including 3M, ASICS, Bridgestone, EE, Galeries Lafayette, Johnson & Johnson, Levi Strauss & Co, Nestlé, Nespresso, Nikon, Rexel, Samsung Electronics, Ted Baker, Tommy Bahama and W.W. Grainger, to attract, retain, and grow a profitable customer base. hybris Commerce Suite, hybris Marketing and hybris Billing sit right at the heart of SAP's customer engagement and commerce (CEC) suite of solutions, alongside SAP® Cloud for Sales, SAP Cloud for Service and SAP CRM. These provide organizations with the foundation, framework and business tools to create a holistic customer view across channels, simplify customer engagement and solve complex business problems. For more information, visit www.hybris.com.
About Impinj
Impinj is a leading provider of RAIN RFID solutions. We deliver Item Intelligence, physical items' unique identity, location and authenticity, to the digital world, which we believe is the essence of the Internet-of-Things. Our platform connects billions of everyday items such as apparel, medical supplies, automobile parts, drivers' licenses, food and luggage to applications such as inventory management, patient safety, asset tracking and item authentication, delivering real-time information to businesses about items they create, manage, transport and sell. For more information about Impinj, visit: http://www.impinj.com
Source: arvato Systems
Share: