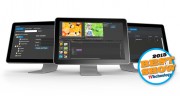 IBC 2015 provided the backdrop for arvato Systems to win its third award this year for a Broadcast & New Media IT Solution. Following in the footsteps of AdStore and VPMS, EditMate won the TVTechnology Best of Show award. The industry recognizes the power of the software solution for editing projects in significantly simplifying collaborative working within video production processes.
New York, USA, October 8, 2015 (Newswire.com) - arvato Systems was once again present at Amsterdam's IBC, the most important European trade show for Broadcast & New Media, and lined up an extensive portfolio of IT solutions and services designed especially for this industry. Following the success at the IBC, arvato Systems will next bring its solutions to the SMPTE Annual Technical conference in Los Angeles from October 27-29th, and then to the CCW Expo in New York from November 11-12th.
Award-winning Solutions for Collaborative Editing and Media Asset Management
"VPMS" is the enterprise-class Media Asset Management system deployed to broadcasting customers on several continents and was recognized with a Best of Show award at the 2015 NAB Show. "VPMS" connects users and business systems with the broadcasting infrastructure and orchestrates and automates end-to-end workflows for ingest, quality control, production, archive, and distribution to playout. 
arvato Systems will also be showcasing "EditMate", the innovative and award-winning suite of tools for collaborative editing and project management within Adobe Premiere®Pro®CC. Also available will be the "ClipJOCKEY" studio production tool, which controls video servers and VTRs to deliver endless possibilities for production and playout workflows.
More information on the award-winning solution "EditMate" as well as the arvato Systems comprehensive IT portfolio for Broadcast & New Media can be found at www.s4m.arvato-systems.com.
 
About arvato Systems
arvato Systems is a global, next-generation IT systems integrator and solutions provider that focuses on the Digital Transformation. We use the technology expertise of over 3,000 people at more than 25 sites around the globe to deliver technology and operation and support services.
As a company in the arvato group and part of the Bertelsmann network, we have the capability to create entire value chains. Our teams build integrated and future-proof business infrastructures to help make our customers agile and competitive and deliver new standards of service.
Media customers benefit from our industry expertise and experience.  Custom-tailored arvato Systems solutions for broadcast management, media asset management, and publishing, marketing and enterprise management are used today in more than 30 countries.
arvato Systems offers an exceptional combination of international IT engineering excellence, the perspective of a global player, and the dedication of its employees. www.arvato-systems.com
Share: