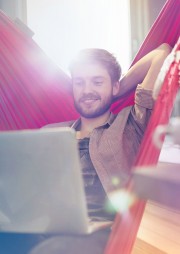 arvato Systems, hybris SAP and Impinj collaborate to change the shopping experience in general and to make changing rooms a whole lot smarter.
New York, NY, November 10, 2015 (Newswire.com) - According to digital performance company iProspect, there are 19 million affluent men online, and the vast majority of them are shopping. Nearly half of these wealthy men spend more than $4,000 a year online.
Luxury menswear and accessories are leading the growth trend. Seventy percent of affluent men prefer to both research and buy online, with more than a quarter of them making purchases weekly (Sorry ladies, but 84% of these guys are buying for themselves.). Yet most men will report that they still don't like shopping.
Men are out-shopping women online. Until now.
This is the opportunity for Retailers to change the shopping experience completely, for everyone. 
Start to offer a great online experience and be even more convincing with your personalized customer service in your store. You will see an increase in customer retention and loyalty.
arvato Systems, hybris SAP, and Impinj collaborate to change the shopping experience in general and to make store changing rooms a whole lot smarter. The changing room is usually a private space where customers are left alone, whether they like it or not. Help them where help is wanted and find a way to make the shopping experience less stressful and more enjoyable, even for men.
Check out the video showing an exciting interactive shopping experience from the consumer's living room to the in-store changing room. This consumer will for sure be back.
About arvato Systems
arvato Systems North America is a long term Gold hybris and SAP Partner with a solid reputation as a system integrator. We have been implementing standard hybris solutions for more than eight years while also offering tailor-made, industry-specific and individually developed solutions. Our second pillar of expertise is Cloud Consulting and Services helping businesses to transform their processes and applications to leverage the advantages of the Cloud, for example ad hoc and in time scalability, global deployment approaches and codified infrastructure. Dedicated eCommerce specialists at our sites throughout Europe, China, South East Asia, the US, and Latin America are always there for our customers. As part of the arvato network, a leading international technology provider that thrives on digital transformation, we have the unique capability to provide entire value chains. We are globally combining IT with other services like fulfillment, financial and customer services to deliver integrated end-to-end solutions from one source. The strength of arvato Systems North America lies in the intelligent combination of managing, planning, implementing and operating complex hybris CEC solutions. Our customers appreciate the way we bring in-depth industry know-how, hybris platform, Cloud expertise, a true partnership approach, and the Bertelsmann entrepreneurial spirit to the table. Our solutions pave the way for your success in commerce. For more information visit: us.arvato-systems.com
About hybris
hybris software, an SAP company, provides omni-channel customer engagement and commerce solutions that allow organizations to build up a contextual understanding of their customers in real-time, deliver a more impactful, relevant customer experience and sell more goods, services and digital content across every touch point, channel and device. Through its state-of-the-art customer data management, context driven marketing tools and unified commerce processes, hybris has helped some of the world's leading organizations including 3M, ASICS, Bridgestone, EE, Galeries Lafayette, Johnson & Johnson, Levi Strauss & Co, Nestlé, Nespresso, Nikon, Rexel, Samsung Electronics, Ted Baker, Tommy Bahama and W.W. Grainger, to attract, retain, and grow a profitable customer base. hybris Commerce Suite, hybris Marketing and hybris Billing sit right at the heart of SAP's customer engagement and commerce (CEC) suite of solutions, alongside SAP® Cloud for Sales, SAP Cloud for Service and SAP CRM. These provide organizations with the foundation, framework and business tools to create a holistic customer view across channels, simplify customer engagement and solve complex business problems. For more information, visit www.hybris.com.
About Impinj
Impinj is a leading provider of RAIN RFID solutions. We deliver Item Intelligence, physical items' unique identity, location and authenticity, to the digital world, which we believe is the essence of the Internet-of-Things. Our platform connects billions of everyday items such as apparel, medical supplies, automobile parts, drivers' licenses, food and luggage to applications such as inventory management, patient safety, asset tracking and item authentication, delivering real-time information to businesses about items they create, manage, transport and sell. For more information about Impinj, visit: http://www.impinj.com
Share: